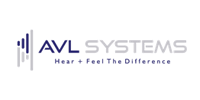 AVL Systems develop and manufacture the most advanced acoustical products available in the world.
AVL Systems offers a complete line of acoustical wall and ceiling systems, panels, baffles, diffusers, reflectors and custom specification systems, all of which are manufactured in the United States.
Their ability to provide custom sizes, shapes, edge details and to work with both standard and customer-specified facings, provides a design flexibility unsurpassed in our industry.